Phish or Paranoid? Response from TM
I got a reply from TM about my phishing query - yup, they're genuine.
I'm still curious, though, why they sent me an email without my request.
Dear Sir/ Madam,

Thank you for your email to TMNet. Firstly, we apologise for the late response.

Sir/ Madam, referring to you email, we would like to thank you for sending us the information that you required to know. TM Online service is a genuine service that allows you to:-

1. View and check your TM phone bills on the internet.
2. View most recent calls as early as 3 days from the current date.
All Telekom Malaysia fixed line customers can enjoy this service feature.

There are many benefits that you can used in TM Online Service. The registration is FREE and Easy. All you have to do is visit this website: http://www.tmonline.com.my

Sir/ Madam, if you required to know more please visits the website. Please feel free to contact us should you require further assistance either via e-mail at streamyx@tm.net.my

Sir / Madam, we thank you for taking the time to write to us and look forward to serve you better.

Comments:
hola! i hated the subtitles too...but i enjoyed the rest of m! the opera. this is shari btw...um, as in, jaffri's daughter shari shari. my new blog ish www.xanga.com/wild_tigerlilies. =)
Post a Comment
Phishing attack from "tmonline.com.my"? Or Paranoid Dzof?
I received a strange email today:
Dear dzof123,

Welcome to TM Online the smarter way to manage your telephone bills anytime, anywhere.

To activate the service log on to http://www.tmonline.com.my for TM Bill with the User ID and Temporary Password provided below:

USERID: dzof123
PASSWORD: *********

For security reason you will be required to change your temporary password immediately.

TM Online your one stop management of your telephone accounts.


Thank you,
TM Online

Reasons why I suspect this to be a phishing attack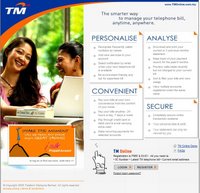 It came completely out of the blue. I didn't ask for it, they didn't ask me for it, they just gave me a username and password straight away. And they give my username as dzof123, a name I would have never chosen on my own.
The domain is tmonline.com.my instead of something like http://www.tm.net.my/ or https://tmbill.tm.net.my/SelfCare/Maintenance/selfcareLogin.jsp (which is where you really go to change your passwords and, oh yes, PAY TMNet BILLS ONLINE)
When you do go to tmonline.com.my and look at the website, it looks... well, it just looks darned suspicious. Hard to explain it. There's no link to tm.com.my for example. And none of the usual terms and conditions and disclaimers. Also, no contact address/phone number. But more than that, it just looks... wrong.
When you click on FAQ or Online Demo, it tries to surreptitiously forward you on to pagead2.googlesyndication.com and eview.connectme.tv.
However, when you try to register and fail to give a valid account number, you get the message

"No match was found for your account number. Kindly drop an email to tmonline@tm.com.my for personalised assistance"

- which looks like a completely valid response. Could you spoof it? Interestingly, a search of both tm.net.my and tm.com.my shows NO contact email address. It's either by using forms or phoning in.
So? Phishing attack or Paranoid Dzof?
Comments:
This site is REAL. I use it for viewing my TM home phone bill online. There's a link to it from the TM main website:
http://www.tm.com.my/customer/bill_payment/care_bill_online.htm
Though I dunno why yours was automatic, because mine I had to sign up using my home phone account number and all.
Post a Comment
What? Another Realiti TV show?
Realiti
is a new fictional drama set in the world of reality television. It will be on air on 8TV 'sometime' this year, which may mean anywhere between May and August 2006. The series will star
Azizan Nin
, Ashraf Sinclair, Alvin Wong,
Chelsia Ng
and
Melissa Maureen
. As you might guess, each character is distinct from one another: You have a melayu rocker, an urban bad boy, a glamour diva, an opportunistic vixen and a talented girl-next-door. Of course, the reality is that nobody is quite who they seem.
It's something that has been in the works since the middle of last year, but I'm fine writing about this now because 8TV has already announced it in their "shows to watch this year" presentation event. (Normally I don't like talking about shows that haven't been confirmed yet. Doing things like that has this whole jinxy feel about it.)
(By the way, I wrote two and two-half episodes for it, which is why I'm blogging about it.)
Shooting has just begun last week and what I've seen so far looks interesting. I think Ping Ho (one of the producers) wants this to stand out a little in terms of writing (can you say 'tri-lingual dialogue'?) and cinematography (for example, more continuous hand-held shots).
Those of you who
were at the Channel 8/Media Prima preview
probably saw a demo pilot for the show. And you will probably notice some differences between that pilot and what I'm describing here.
For a start there were originally six main characters who have now be pruned to five. Those Cheryl Samad fans out there will just have to wait for a second season of Realiti (ohpleaseohpleaseohpleaseohplease) for her to make an appearance. For some bizarre reason, she'd rather go
traipsing around Australia
than get stuck shooting on an abandoned floor in an old building in KL. Go figure.
And Ashraf Sinclair takes time off wooing the ladies of
Gol and Gincu
to take Awal Ashari's place. Yes, yes, it's still eye candy for the girls. Not that I understand it at all.
I'm also happy to work with Azizan, Melissa and Alvin again (since I
write
first and then they
complain
about my writing later, it's a quantumesque working-at-a-distance type of deal where I just hide my face when necessary). After all,
Table for Two
will always hold a special place in my heart and my CV, so anything to do with that group rocks for me.
Chelsia rounds off the cast, and since the show is about a singing talent show, and she can sing (and boy, she can sing), it's a good fit. Being good-looking enough to finish third runner-up in the Miss Malaysia/ World pageant (in 2003, for those who care) doesn't hurt either.
There are other supporting cast, of course, but I'll write about them later.
Comments:
Hey dzof! You visiting again soon? I had to do another icing-sugar scene just a few days ago. hah.. Was fun. oh.. and is thtat you in the picture? Cute!
Cyber-Red-
Hey I resent that.. but yes.. Everyone is entitled to their own opinions. Give me a break la, c'mon.. leave the past to the past.. But then again I don't blame you.. I share the same sentiment.. when I watch mostt of the TV shows I've done so far.. can't say I'm very proud of them. well.. on a harsher note.. Yes It makes me sick in the stomach too..So give me anotehr chance, aitte? Make sure you tune in when it's out.. Let me know what you think then..
Oh.. and please make your comments more constructive in future.. I'm always very eager to improve.
Post a Comment
Dzof peeks around the corner to say hi
It's been a long long time since I last blogged, I know. I have no real explaination other than to say that life has been a little crazy. I suppose I should summarise what I have been doing in between.
My brother got married. Twice. Well, there were two ceremonies, one in KL and one near Bradford. Same girl, you understand.
I've written scripts for two new shows. One I can talk about:

Realiti

, which is currently filming. Another, which I can't talk about because it'll be jinxed if I do. You get what I mean.
Actually, I've been doing a fair amount of stuff that I don't or can't talk about (again because of the jinx factor, you understand).
As for things that I'm excited about at the moment:
The two latest Terry Pratchett books (Going Postal and THUD!) are extremely good and are definitely worth reading. Even if you don't read 'fantasy'.

Deja Voodoo Spells has a kickin' album. It most certainly rocks.
Battlestar Galactica (the new version) is awesome. The season 2 finale is some of the most exciting and intense television I have seen for a long while.
Things to look forward to:
Comments:
hey, DZOF:
MISS'd you, though I'm mail!
Browsing thru sarawho, I thot I spy a familiAr nama, so I'm yelling back "HI"!
BTW, I'm interested in your film abencha as a few months ago I attended a one-day "WRitinf for 'ollywood" seminar by ScreenAsia (in KL), and am planning to attend a 2D workshp again by them in Sin-land soon.
Somethin' more personal which I need your advice -- drop me a line at my emale, can: chongyl2000@yahoo.com
PS: I recall you having peeped in at my blog -- desiderata2000.blogspot.com...
Visit agin and I'll serve thee tehtarik, manis-manis also-can!:)
Post a Comment